We are having some beautiful, foggy, gray, classic northwest weather as autumn slowly gives way to winter here on the Lower Columbia River. Merry and I are getting ready for a few last shows to round out 2019. For the first time since we started the tradition in 2011, we will have two performances of The Holiday Spectacular in one season: one in Portland at Teutonic Wine Company and the other at River Mile 38 in Cathlamet, WA. Our friends, Ian Brandon and Andrew Emlen will join us on fiddle and cello. It's a great ensemble, and I hope you can catch a show!
Tickets for the Portland event are here: Saturday, December 14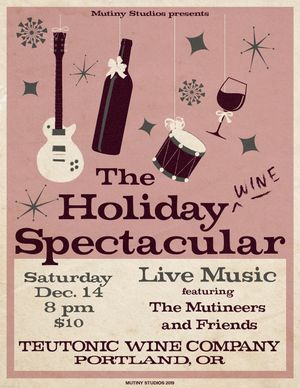 After that, we join our pal Matthew Sayles for his residency at Al's Den in NW Portland. We will be there on Wednesday night, December 18. If you've been following us for a while, you know Matt has been a long time collaborator. He's a great singer/songwriter with deep knowledge of the roots of American music that he uses to weave a thread through his shows. Great time of year to walk around NW and then hunker down in the basement club of a classic hotel.
We've made a home out here on the Lower Columbia River for the last three years when we are not on the road. Been wonderful getting to know the locals and working with River Mile 38. And so we will do our third Spectacular here in Cathlamet. We will be joined by a cast of local musicians who will take the mic and sing with us. Saturday, December 21
At the time of posting, we don't have an NYE show on the schedule, but keep your eye out for us. We may have a show for you if you're up in the PNW. I'll keep you posted.
We will be in the studio this month as well, back to work with Raymond Richards. It's the season to stay in and work on new music and plan the 2020 tour route. We have a lot in the works already. But more on that after the holidays. We hope you are happy and healthy, and if you are not, that you have someone to lean on. Thanks for all your support this year! We are grateful. Cheers