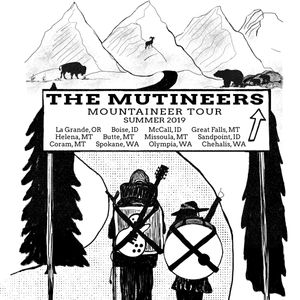 The most common mispronunciation of our name is, The Mountaineers, followed closely by, The Mutton Ears. For the record, it is pronounced Mew-tin-ears, as in MUTINY!  But as the saying goes, "if you can't beat 'em, join 'em." So we have named our summer tour THE MOUNTAINEER TOUR. It all starts July 12 in La Grande at Side A Brewing. We will have a few gigs in the area before we hit the road for two and a half weeks in the mountains. For all you flatlanders out there in the rest of the U.S. keep an eye out for our fall national tour announcement, coming around August 1. We will be making the rounds in September, October, and November. 
This weekend we head back to Skyline Tavern on Thursday 6/20. Situated up on the hill above Forest Park in Portland, OR, this is an intimate environment for our show, plus the building, grounds, and view are outstanding. Next, we head to Bend for our first proper gig in 8 years. We will be joining Cosmonautical for a house party at Loco Continuum. Contact us for details if you are in the area. We end the weekend on Saturday in The Dalles for our first performance at Rivertap. Looking forward to this short run!
Portland area, don't forget to get your tickets to the 39th Annual Crawfish Boil on Thursday, July 4. They are going fast because it's an amazing deal. $30 gets you all day hourly crawfish and shrimp boil, a food ticket to go through the buffet line, 5 drink tickets, and performances by 11 awesome bands from noon till 10pm! People were turned away at the door last year, so don't sleep on it if you want to attend. We play at 3p. Details at: https://www.facebook.com/events/845779985775596/. You can follow us up to Cathlamet, WA on Saturday if you got the energy. We will be playing at River Mile 38 Brewery for the first time in a long time. It's worth it to visit this area!
And then we hit the road for real. We are very excited for this loop through mountain country. I think we will be crossing the Great Divide four times on this trip. It will take us through eastern Oregon, western Idaho, a loop around western Montana, to Spokane, WA for the first time, and then back to Olympia and Chehalis where we made our first visits in May. 12 shows in 15 days! Personally, I am most excited about returning to Boise. We have always wanted to play at The Olympic Venue and it turns out we get the chance to do it on a fantastic bill. MESSIMER, Rider and Rolling Thunder, and The Mutineers. Tickets are available now at THIS LINK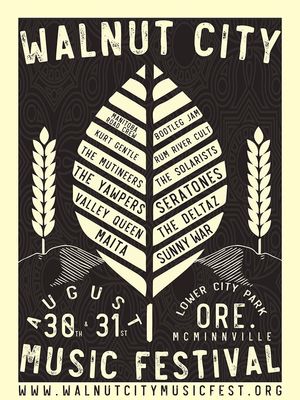 We will be fairly quiet in August as we gear up for two months on the road. But we will end the month at Walnut City Music Festival. The lineup is fantastic. If you don't know some or any of the names, that's ok. There's a really great playlist on Spotify featuring a couple tracks from each band. Really fun listen. We went and walked around the park where the festival will take place. Just happened to be out in McMinnville. It's down in the holler of the park where the creek runs through, nice sunny and shady areas, big trees. Going to be a great weekend there. Tickets are on sale now HERE
Summer is here. Time to live it up. See you out on the road!