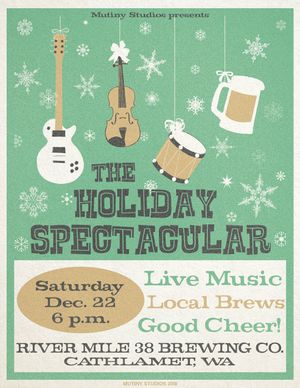 We are closing out the year with a few more shows in the PNW. First Merry and I host our annual Holiday Spectacular here in Cathlamet with the help of our local musician friends. We will be performing classic and not so classic holiday and seasonal songs in a variety show format on Saturday 12/22 at River Mile 38 Brewing. Then on Saturday 12/29 we head into SW Portland, OR to join Paul Mauer and The Silence, and Castles at Buffalo Gap. And finally, we end the year with our good friends in Seaside, OR on NYE for a private party at Seaside Brewing Company. January will be a quiet one for us out in the clubs. We will be back at it in February with shows in Salem, Astoria, Vancouver, Seattle, Tacoma, and Olympia. And of course, we have a great show to announce for St. Paddy's Day weekend. I mean, it's tradition at this point right? Keep an eye out for more announcements.
Here's the YEAR IN REVIEW:
In the early months of 2018 we began working on our new EP, Threshold, while cat-sitting for a friend in Portland. We recorded most of the album during a particularly cold January at B-Side Studio, the same studio where we had recorded our last release. Everything felt great working with engineer Raymond Richards again. Right around the same time came a late night message from an admittedly buzzed up Clovis IV. He had this crazy idea (perhaps wine-influenced) to drive up from California to our off-tour home in Cathlamet, WA and work on a music video for the band. To his credit, when he woke up the next day and realized what he had committed himself to, he stuck with it. In the damp and cold of February we slogged through the muddy farms in search of great scenery and production ideas for two videos. We worked our asses off for three days, getting enough material for "Drug For That" and leaving more work to be done for "Afterthought". Meanwhile, I was finishing up the booking for our ambitious 3 month Spring tour as Merry designed new promo and merch material. Before we knew it, we were back at Treefort Music Festival having an unadulterated blast. The tour was off and running. It was indeed ambitious. We played a lot of regions for the first time: the northern Cali coast, Texas, Nashville, Detroit, Milwaukee, Minneapolis, Iowa, Montana. By the end of over 12 weeks on the road, I admit, I was spent. I couldn't wrap my head around anymore time in a moving van. We had it in mind to spend the rest of the year in the Pacific NW, but I, of course, had already committed us to several dates on an Autumn tour. No rest for the weary, we immediately began to fill up the dates in September to head back east. At the same time, we went back into the studio to finish up our EP. As the songs one by one got their finishing touches, we began to feel more and more excited about the project. Clovis had completed the final cut of "Drug For That", so we teamed up with Shameless Promotion PR to create a plan to release the video, followed by full promotion of our EP. Fortunately for us, Merry had our artwork ready for the CD cover and all the promo material for the release and tour. It helps to have design "in-house"!! By the end of August, Clovis was back on the farm with us filming the video for "Afterthought". Another whirlwind 3 days of work, but this time in the dead of summer heat. Finally, with just a few days to spare before hitting the road again, I finished screen printing our album covers and mailed off the first promotional copies of the CDs to radio stations and other outlets on our tour schedule. Shauna, at Shameless, was getting great reviews for our singles and EP ahead of its official release on the second day of tour. We made some killer last minute changes to our tour van and then, once again, we were off on the road, our fourth national tour in two years.
Three weeks into our tour, with the EP getting lots of reviews and features in the US and abroad, we released the video for "Afterthought". As of writing this entry, "Afterthought" has been viewed over 12,000 times on Youtube in the two months since its release. We are a humble band and it's a delight to see that our music and art are getting seen and enjoyed around the globe. It's a dangerous thing to focus on social media numbers of any kind. They can be manipulated by all sorts of entities. They can give the illusion of success or failure. They don't tell the full story. But they tell A story. The story here, I think, is that we have a piece of art that people are enjoying and sharing. For a DIY act especially, you need fans to magnify your efforts. You need someone other than yourself and your circle of friends to say "This is good stuff!" Having a great video can do just that, grab people's attention who have never seen your name before. Clovis did a beautiful job creating mood and bringing this video to life. Shameless Promotion got in front of people who would love it. The ball is rolling and seems to have momentum. I think this EP has some legs on it. Thank you to everyone who has been supporting us! You can help us reach even more people by adding our videos to your Youtube playlists, or our songs to your Spotify playlists. These two avenues seem to be the number one way people are finding out about music these days. We are fortunate that the listeners can now play a role in who gets noticed in this industry. 
84 shows this year. My goal was 100. I fell short, but I don't feel bad about it. As a two person team, we can only do so much. Booking is a pain in the ass. There's always more that could have been done with more time and energy. In January, I'll let you know what we are excited about in the year to come. But as for 2018, we have never had a busier year as band. We have gotten better as musicians, we have learned a lot about the business, and we have produced art that we are extremely proud of. I'm hoping that this year finds us creating many many new songs as we continue to support Threshold. We want to be ready to record again soon! Cheers to you and yours this holiday season.