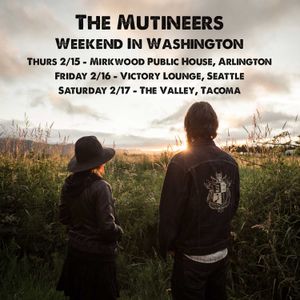 We are finally making our way up to the Seattle area for the first time. There's three opportunities in February to see us play in Northern Washington. We have some great local bands on the bills with us in some very cool venues (Including Michael Ray and the Plastic Sheets, Ask Sophie, and Sharky Waters). Help us get our heads ready for our big spring tour by spreading the word to your friends in the area. We will give you a taste of some of our newest tracks. Speaking of which...
We just finished our short stint in the recording studio. We returned to B-Side Studios here in Portland to work with The Gentle Shepherd, Raymond Richards once again. This time we are taking a different approach from the live recording we put down for our last album. With help on multiple instruments from Raymond, we are fully producing our latest songs with whatever instruments and voices we feel inspired by. Expect to hear a Hammond Organ, random percussion, bass guitar, and our departed brother Michael's beautiful Gibson acoustic guitar. We recorded 4 songs and we are really happy with the results. During our Spring tour we will be wood-shedding new material and getting it ready to record in the Summer. If all goes well, we should have an album to share this coming Autumn. You can help support our new album by downloading Live at B-Side. You can pay what you want ($5 min) for our digital album when you buy it from our website. Don't forget all of our merch is designed by Merry and screen printed by Brian. Picking up a t-shirt, poster, or CD will help us a ton! And thank you in advance ;)
We posted this map on social media recently. It shows our prospective route for our upcoming Spring tour. We will be announcing the first month of show dates in about two weeks. If you'd like to see us in your town, let us know! You can reach us directly through our contact page. Help from local folks makes a world of difference. Track us on Bandsintown and keep in touch!