We did it. We had a real proper Spring day here in the PNW. Warm and sunny with flowers blooming everywhere against the impossibly blue sky. We are hoping we get a beautiful June because we have a couple outdoor shows on the books. Big shout out to Boise. We are back with you this July! We were so excited to see pictures from one of our Treefort performances posted by No Depression. Thanks to photographer and all around good dude, Peter Dervin. Here's one he sent us.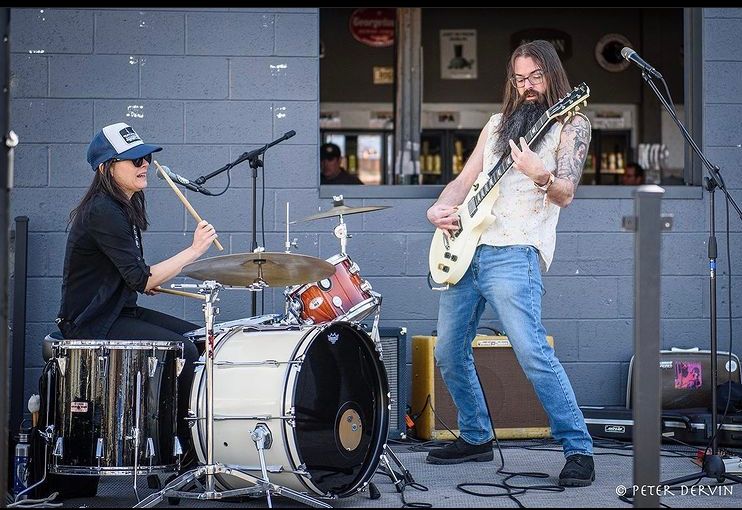 Get out your calendars, it's time for your seasonal show update from The Mutineers. 
We haven't played Starday Tavern since 2016 I believe. This time we bring our Washington buds, The Deadhollows down for the show along with Portland based Never Better. It's gonna be a loud rocking show and we are opening up at 8p.
If the weather is good on 6/5 we will be playing on the outdoor stage at Grateful Vineyard. The view is outrageous, and the food and wine are excellent. Bring your lawn chairs. Take Monday off and follow us to White Salmon for our acoustic set across the river.
The same goes for 6/8 in Kalama. If it's suitable outside we will be rocking out in the amphitheater next to the hotel. If not we will be back in the cozy lounge doing our acoustic show.
Making our first appearances in Centralia and Snohomish in June before returning to Bremerton for a live recording at Rimbert Illustrations. 
We are looking forward to getting back on stage at Silver Moon Brewing in Bend. That place had a lot of energy back in April on our first trip. We get up and head all the way to Boise after that to play at The Vista Bar with Spike Coggins. We had to immediately book more Boise shows when we got home from Treefort. This show is going to rock. 
As always, you can support the band while getting cool stuff from our store. Most of our items were hand screen printed by Brian and designed by Merry.
Have a great summer everyone! We hope to see you out there.