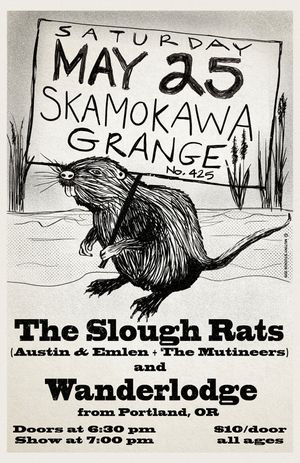 The Summer visited us early in the Pacific Northwest. We had some lovely weather to travel and tour our region in the past month. We just returned to the farm. It's back to cool and rainy. I'm not unhappy with it. I love the rain. Sooner or later, real Summer will show up and we have some fun things lined up for it. Here are the highlights:
Saturday, May 25 at the Skamokawa Grange with Wanderlodge. Merry and I will team up with our friends, Austin & Emlen, to create a four-piece act we are calling The Slough Rats. We will be playing a few Mutineers songs, a few of their tracks, and a few select covers. Across the road from the Grange is Vista Park. It has a beach on the river and a bunch of camping and other facilities to rent. Come spend Memorial Day weekend with us. The show is $10 at the door. 
Thursday, July 4, The 38th Annual Crawfish Boil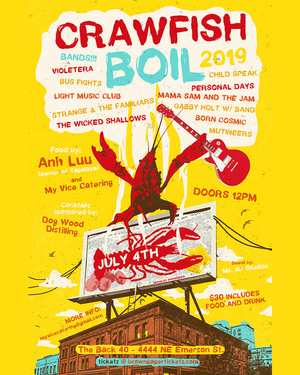 $30 gets you all day hourly crawfish and shrimp boil, a food ticket to go through the buffet line, 5 drink tickets, and performances by 11 awesome bands from noon till 10pm! This is going to be an insanely good time. If you are near Portland, do this for Independence Day. Tickets are available now: http://bit.ly/PDXCrawfish2019
Saturday, July 13, at The Olympic, Boise, ID with Messimer and Rider Soran. Luke Messimer writes great songs. And he can sing the hell out of them. Messimer was one of our favorite acts of Treeforts past. Rider Soran, from Boise's Marshall Poole, has a new country band he is leading and we can't wait to hear what he's got going on. The Olympic is awesome. Can't wait for this show and our return to Boise. This is part of a longer tour through Idaho, Montana, and eastern Washington/Oregon. 
Friday, August 30, Walnut City Fest, McMinnville, OR. They have already announced the lineup for this end of the summer music festival in wine country. Our friends, the very talented MAITA, are on the bill along with the mighty Yawpers. It's a two day festival in the park with after parties in the nearby bars. Get it on your calendars too.