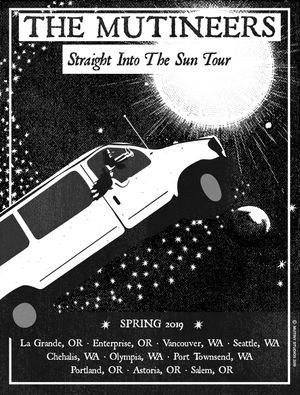 California gave us a dose of Springtime that we severely needed after a typical PNW Winter. It was so gorgeous down south after all the rain. And, hey, the shows were pretty damn good too! We broke some new ground on this tour. New venues and towns. New songs. New friends. We are plotting our return already.  
The Spring tour dates roll on up here in the great Northwest. Here's the updated tour poster. We have our screen printed limited edition version at our merch table. It has metallic silver ink. Looks faaarrrrr ooouuuut. Only about a dozen or so left of 50. We also have an epic tour shirt that pays homage to E.T. Check them out at the shows.
From the Dirge to the Dance just turned 8 years old the other day. I'm a whole mess of emotions about that. It was our last release with Michael and Terry still with us. We did record a single with a b-side and sent it to a few radio stations but it was never released publicly. Hard to believe it took 5 years to release anything else. Time just slips away, and those were some tumultuous years for us. I'm proud of that album, although I have a tough time listening to it. I'd love to have another shot at those songs, and it breaks my heart to hear us playing with Michael. Gotta be careful with painful nostalgia...
It's been a while, but the focus and creativity are back. We are rehearsing new material during this round of touring. With your support, we will get back into the studio this year and get a new batch of songs to you before too long.