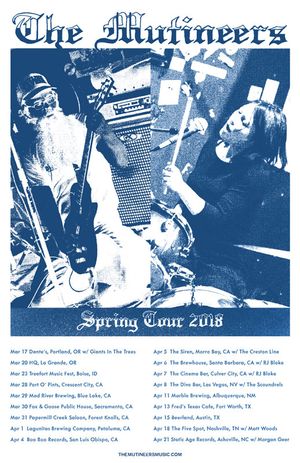 We are making our way down the coast of California, the land of seriously overpopulated and overpriced camp sites! Seriously, it's kinda crazy. I seem to remember a time when camping was a spur of the moment activity. All good tho. We get by with a little help from our friends. We have 9 shows over the next 11 days in this giant state. We are returning to some familiar stomping grounds in Sacramento, Forest Knolls, Morro Bay, San Luis Obispo, Santa Barbara, and Culver CIty. We are making our first stops in Crescent City (tonight!), Blue Lake, and Petaluma. Check the schedule for more details.
The great RJ Bloke (Patrolled By Radar) will be joining us for three shows on this tour: The Siren, The Brewhouse, and The Cinema Bar. He's one of our favorite troubadours. Our Twang n Bang buddies, The Creston Line, will headline the show at The Siren and then open for us as a two piece in Santa Barbara. And in Sacramento we will be joining Loose Engines and Diva Kings at Fox and Goose Public House. Outside of that, you'll find us holding down 2-3 sets all by our lonesome. 
This leg finishes up in good ol' Las Vegas back with our super friends, The Scoundrels, for a very special birthday show for Bianca Scoundrel at the inimitable, The Dive Bar. I'm getting antsy just thinking about all these gigs. Let's go already!
We had an absolutely fantastic time at Treefort Music Fest this year. Last year we both had a terrible cold that sidelined us outside of our own gigs. It was a bummer. This year we used every bit of time and energy to see tons of great bands. The whole festival was unbelievably well planned, executed, and attended. There was way too much for any one person to do. Here's a quick list of the bands we saw. Dial them up on your music app of choice and find something to fall in love with:
Big White (Australia), Luke Messimer, And And And, MAITA, Galactic, Marshall Poole, Dan Dan, Sun Valley Gun Club, Taylor Kingman, BAND DIALOGUE, Serpentfoot, Dante Elephante, Battlehooch, Orchestra Pacifico Tropicale, Cindy Wilson, Bart Budwig, The Weary Times, and probably a bunch more... there was so much we didn't see too.
Big thanks to our buddy Connor in Boise for hosting us when we needed some kind hospitality and down time!
More dates are about to be announced for the return trip from the east side of the Mississippi. Stay tuned!