TOUR DATES!
9/30 Erebus, Kelso, WA 
10/1 McCoy's, Olympia, WA 
10/8 Labor Temple, Astoria, OR 
10/22 Alberta Street Pub, Portland, OR 
11/3 Torch Club, Sacramento, CA 
11/4 Raconteur Room, Astacadero, CA 
11/5 Third Window Brewing, Santa Barbara, CA 
11/11 Silverlake Lounge, Los Angeles, CA 
11/12 The Crepe Place, Santa Cruz, CA 
Autumn is upon us. Time for a seasonal update from your friendly neighborhood rock n roll duo, The Mutineers. We had a brilliant summer and hope you did too. Very memorable up until the end, when we unfortunately had to cancel our Starday Tavern gig due Covid. Thankfully, Brian only had  mild symptoms (taste and smell went haywire!) and Merry never tested positive at all. We were bummed to cancel our performance, but we do have another Portland show coming up on October 22nd at Alberta Street Pub. Come out for early entertainment from 4-7p! We will have Jack Parker in town from Bremerton opening the show. He's got a great new album that just released. And then our local buds Radio Receiver, featuring Nate Wallace on vocals, will take the reins and make our hearts break. We are on at 6p and done by 7. So don't be late. BTW if you missed the summer shows, then you missed my famous green shorts. Here they are in their glory at Pengilly's in Boise, shot by the talented Peter Dervin. Now back into storage you go for the rainy season tiny shorts!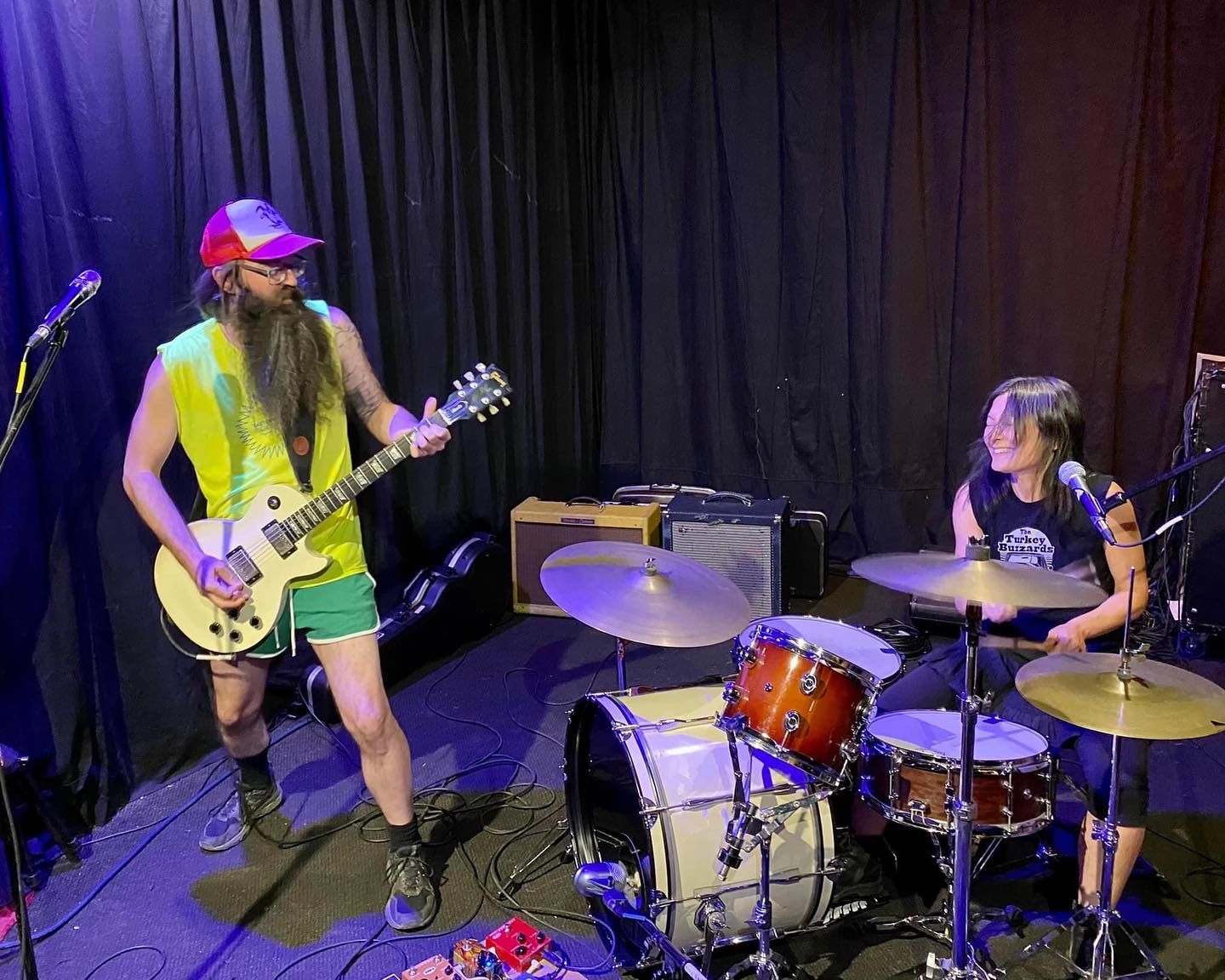 Before the Alberta Street Pub show we will make a couple short runs out of town. Friday, September 30th we return to Erebus in Kelso with a rocking lineup. Former Denver-based, but now Tacoma residents, Serpentfoot will be teaming up with us and our partners in crime The Deadhollows for a loud and fun night. We saw Serpentfoot at Treefort in 2018 and again this past year, '22. We had so much fun at both shows and were stoked to find out they had transplanted to the PNW. Check out their weird, culty vibes on Bandcamp. We continue our journey north with The Deadhollows the next night to perform with Low Wires at McCoy's in Olympia, WA. Rock n roll lineup, rock n roll bar.  
Looking forward to our return to the Labor Bar in Astoria, OR on Saturday, October 8th. The Labor Temple was our last show before the shut downs of 2020. Time to complete the circle.  
The dates and venues are set for our California run in November. We always enjoy our annual west coast trip. Very pleased to be joined by RJ Bloke in SB, Dave, Brian & the 40HWW in Atascadero, and Patrolled by Radar and The Hollow Legs in Silverlake. You will hear some new tunes if you come out. It's a sneak preview of what we will record in the near future. Good times abound. Sacramento, Atascadero, Santa Barbara, LA, and Santa Cruz! Let's get together.