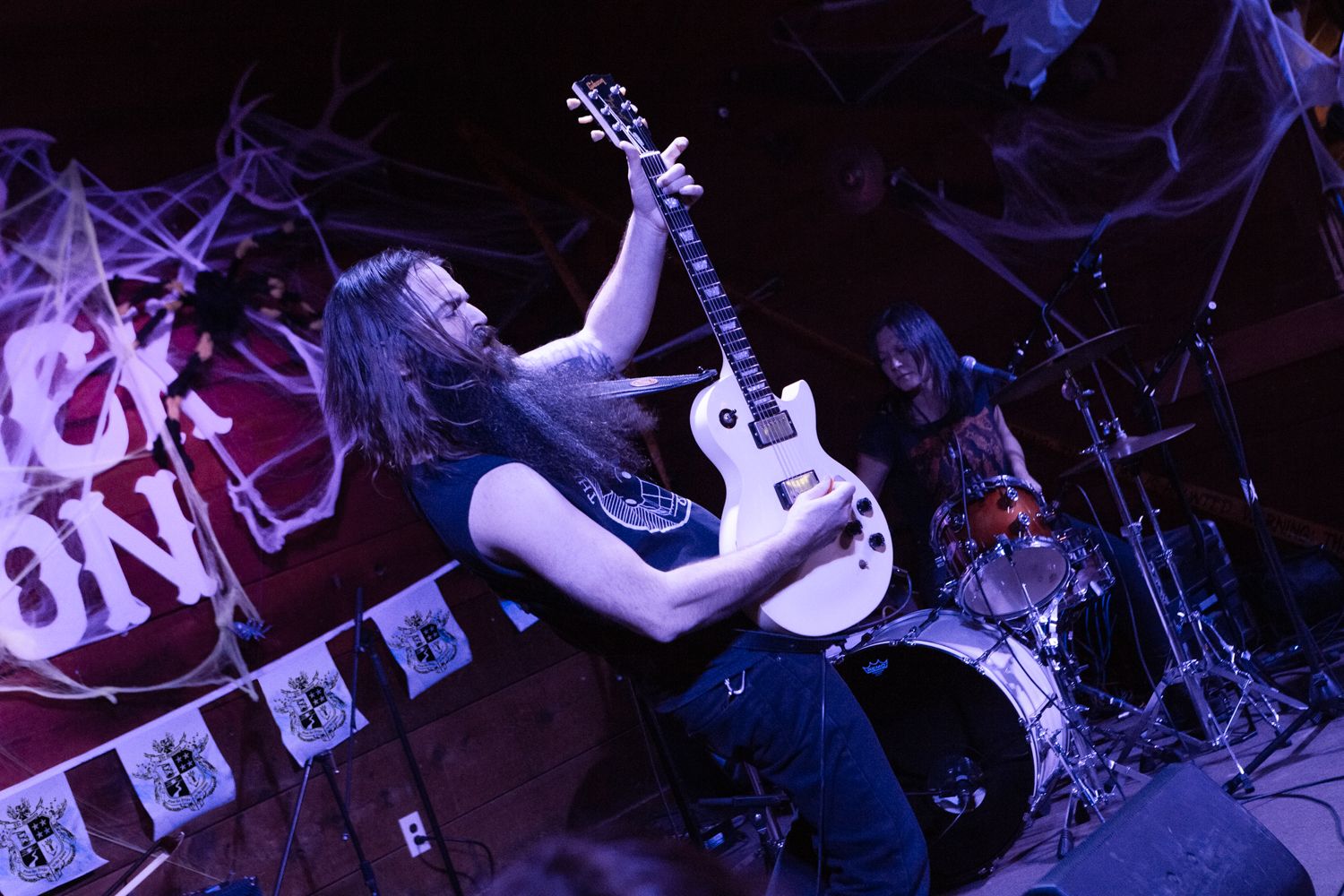 photo by Clovis IV
It's nice to be back in the Pacific Northwest, with the steady drizzle, the colorful fallen leaves, and the cat next to the wood burning stove. We spent the last two weeks of the tour in California, where summer refuses to cede any ground. It was 9 weeks ago that we left our little island community and began the Echolocation tour. What a ride! And it's not quite over yet. Before we get to the tour highlights, here are the last three dates on the schedule:
11/21 at Parliament Tavern, West Seattle, with Michael Ray and the Plastic Sheets and Nosretep
11/22 at The Manette Saloon, Bremerton, with Jack Parker & the Remedy, and Tony Winters
11/23 at Pig Bar, Olympia, with Waking Bear
With these three shows in Washington, the final tally for this tour will be at 40 shows in 19 states. We played with about 25 different bands. We played 11 shows by ourselves. We performed 3 times in Colorado and 3 times in Wisconsin, but California was way out in front with 10 shows. It was 90+ degrees during the day in Kansas and Arizona. It got down to 25 overnight outside of Albuquerque and there was snow on the ground in Amarillo. 
We stayed at 4 hotels over the 8+ weeks we were away. The remaining nights were spent in rest areas, Walmart parking lots, camp grounds, and with family and friends when possible. The van needed new rotors and breaks while out on the road, and the check engine light is on. Merry's awesome faux leather jacket and Brian's Rev. Peyton t shirt were both retired on account of decomposition. Neither of us got sick on the road, although 2 hangovers were reported.
We played in a wide variety of locations. Small venues, dive bars, tap rooms and patios, breweries, house parties, a Vaudeville era theater, restaurants, a dance hall, a wedding venue, a bowling alley and a road house or two. We were as far north as Hancock, MI on Lake Superior, and as far South as Tucson, AZ. The tour went coast to coast as well. On the last day's journey back to Washington, we came within inches of hitting an enormous buck while driving in rush hour traffic at dusk. We felt very fortunate to have our health and our lives when we returned home.
The bands we played with were diverse, talented, and all around lovely folks. There was a ton of great music and performances. So we decided to make this playlist of the indie rockers, troubadours, and weirdos we were fortunate enough to share a stage with. Not everyone has their tunes up on Spotify, for better or worse, so we have some bands missing. We also added Patrolled By Radar to the list even though we didn't get to play with them, because, Jay, you know why ;) The playlist is roughly arranged in the order that we performed with them over the last two months.   
Friends on the Echolocation Tour 2019 - Spotify playlist
It's tough to play favorites. We had a lot of great times, but there are a few stand out moments for us. Mickey's Tavern in Madison, WI, Maverick Saloon in Santa Ynez, CA, and The Crepe Place in Santa Cruz all had that epic feel, where folks are packed in and you don't need to encourage them to move up to the stage because they are already there, ready to party. Great bands on all these bills. And at the Maverick we had the opportunity to rock out the last three songs of the night with Terry Luna back on stand up bass. That was killer! The Orpheum Theater in Hancock, MI was magical in all its velvet dressing and vintage grandeur. It was excellent to reunite with our buddy Matt Sayles there. Nyack, NY was my hometown show. Playing with Rest Assured? was incredible. They were so tight! You could feel the energy in the crowd of old school fans. Spirits were high that night! Down in some deep holler outside of Asheville, we played at a wedding. Friends of our dear friend, Morgan Geer aka Drunken Prayer. Morgan played bass with us for about an hour or so. Picking up the songs as we played, while I shouted the chords. We have got to do that again, but with less chord shouting. And I doubt we will forget about Halloween weekend in Tucson with the lovely Miss Lana Rebel. She is a rare talent and also has some of the best stage banter. Che's Lounge was filled with fun people that night. And our first stops ever in Oklahoma were really positive. Let me stop here before I just list every show on the tour.
We had a blast. There seemed to be more folks at more of the shows, and your encouragement means the world to us. We are taking all that energy into the studio this winter. Hugs